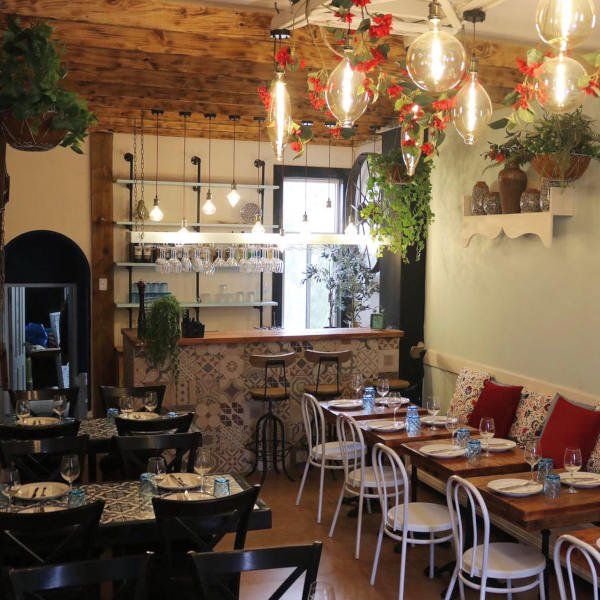 Our Menu
We are glad to take your reservations.
Book now
Call us at 02 7900 3668 or come by the Konak Turkish Kitchen.
Traditional Fluffy Pide Bread
sesame and nigella seeds (v)
Balloon Bread
Turkish spices and herbs olive oil painted with Tulum cheese and walnuts
Hummus
smashed chickpea, tahini, lemon and olive oil (g) (v)
Muhammara
rosted red pepper, walnut, pomegranate molasses, bread crumbs (v)
Tzatziki
yoghurt, cucumber, garlic, dried mint, green herb oil (gf)
Eggplant
smokey eggplant, red pepper, shallots, fresh herbs, sumac (gf) (v)
Mix Mezze platter with pide bread
Hummus, Muhammara, Tzatziki, Eggplant
Fried Lamb Kibbeh( icli kofte )
lamb mince stuffed cracked wheat, walnuts & lemon
Anatolian Style Vegeterian Kibbeh
garlic yoghurt green lentils, potato, raisins, sage butter
Stuffed Vine Leaves
black currants, pine nuts, sour cherry sauce and green herb oil (gf) (v)
Charcoaled Eggplant Mess
lychees, hazelnuts, pomegranates, rose petals & sumac (gf) (v)
Hiramasa Kingfish Ceviche
tomato-chilli ezme, fresh almonds & Turkish wafers( gf ).
CHACOAL SHISH KEBABS & MAINS

"contain daily"
Chicken Wings Shish
lavash bread, bulgur pilav and tomatoes (6 pieces )
Adana Kebab Shish
hand pressed lamb mince, Turkish chilles, lavash bread & bulgur pilav
Chicken Shish
marinated chicken breasts, lavash bread, bulgur pilav and tomatoes
Beef Shish
marinated scotch fillet, lavash bread, bulgur pilav and tomatoes
Ali Nazik ( Traditional Kebab )
smoked & smashed eggplant & yoghurt topped with a shish kebab
Beyti
lamb kebab wrapped with lavash, yoghurt, tomato sauce, pistachio & burnt butter
Turkish Beef Dumplings ( Manti )
walnuts, mint & chilli, garlic yoghurt and burnt butter
Charcoaled Cone Bay Barramundi
with olive oil braised green beans, tomato, onion (gf)
QLD Green King Prawns Shish
bulgur pilav, tarragon butter and lemon wedge ( 6 pieces )
Lamb Shish
marinated lamb backstrap, lavash bread, bulgur pilav and tomatoes
Chicken 28 / Adana 30 / Beef 32 / Lamb 34
Turkish Style Freekah
Bulgur Pilav, tomato, onion, garlic and spices (v)
Aegean Slaw Salad
Red and White Cabbage, Green Apples, Sultanas and Pepitas (gf) (v)
Shephard's Salad
Tomato, Cucumber, Onion, Peppers, Feta, Green Olives (gf)
TRADITIONAL WOOD FIRED TURKISH PIDE
Egg and Cheese
egg, mozzarella & feta cheese
Spinach and Cheese
spinach, mozzarella & feta cheese
Vegetarian with cheese
tomato, onion, spinach, peppers, mushroom
Lahmacun
lamb mince on a flat bread with vegetables, tomato and fresh herbs
Chicken with mozzarella & feta cheese
Lamb Mince (Kiymali)
with mozzarella & feta cheese, onion, peppers, tomato, fresh herbs
Turkish Sausage (Suck)
Pide with mozzarella & feta cheese and eggs
Diced Beef Pide (Kusbasili)
with cheese, scotch fillet, green peppers, tomato, onion
Eggplant Pide with mozzarella & feta cheese
tomato, onion, pomegranate dressing
Assorted Baklava (4 pieces)
Mix of Pistachio, Choclava, Caramel
Turkish Burnt Milk (Kazandibi)
with prunes soaked in Turkish tea and brandy, hazelnut praline
Biji Biji
rose flavoured berry consommé with fresh berries, turkish delight and berry sorbet (v)